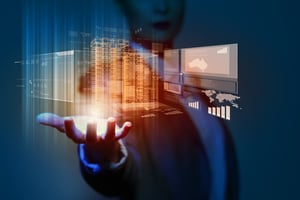 Ever since Inbound Marketing (marketing automation) began in 2010, different marketing fields have been developed. Small adjustments and improvements are daily currency, as well as the improvement of updated data analysis and the reports that make it possible for a company to know what happens with its sales and prospects.
Some have found it difficult to understand that artificial intelligence behind a website can compile, process, accommodate and make information accessible much faster and at all times. Something impossible for any human to do. And if we add Google to the efforts made in order to bring visitors, we have the perfect match.
For most (if not all) of the companies, it is impossible for them to have several open offices with available staff 24 hours a day, 7 days a week, to assist potential clients and help them buy the products or services they offer.
And once the information of this process has been gathered, we can measure it, adjust it, draw graphs and trends to present it in an orderly manner and thus make decisions about what strategies to follow, based on real data.
Measure Your Results and Make Decisions Based on Them
Throughout these years, we've asked the following questions to most of the general or marketing managers that we've talked to: How many prospects do you have per year? How long does it take to turn a prospect into a client? What's your acquisition cost? How many…? In most cases, they've not been able to give a clear, let alone precise, answer.
Do you Know how to Make a Decision Based on Metrics?
The great plus that an Inbound Marketing process offers, are the metrics and graphs that the system automatically draws and that are calculated based on the big data of those websites that are designed to become yet another tool for the company. The old art of leaving some people "dizzy" has been left behind, to make way for the intelligent data of robots.
Content, the Fuel With Which the Machine Works.
Any company or institution, whatever its purpose, whatever it sells, whatever it does, is an inexhaustible source of knowledge and therefore, of content of any kind: written, audio or video. People who open Google to find answers, products or services, will find those companies that offer good quality content and will be attracted to those websites like a magnet. This is how "digital trust" is established, which is now the basis for any business.
After Publishing Content, How Many Viewers Become Paying Customers?
Content and metrics are very necessary for the process. Content, helps your clients get to know more about you and helps you to understand them better. Inbound Marketing metrics, on the other hand, show the profitability of your company as well as its Return on Investment or ROI, based on artificial intelligence.
To get good results, the process will require to track workflows in order to improve, adjust and reapply them. Therefore, marketing automation is not a solution for those teams who are just looking for everything to to get automatically done once the workflows get started.
What Would Happen if you Could use Robots to Automate Processes?
Internet has developed in us the ability to find or solve issues in seconds. Thus, when companies have marketing automation, robots, websites with automatic learning of their viewers habits and searches, and artificial intelligence, they begin to work better. These tools will allow you to, based on a content nutrition process, lead prospects to your website and lead them towards a purchase or at least, towards contacting a sales representative.
The prospects will decide the speed at which they need to go and the marketing automation robots installed on your website, will drive them throughout your marketing funnel in minutes. Goodbye to stagnant or divided into separate sections and stages compartments, with no intention of attracting, converting, closing and delighting.
A serious Google study (ZMOT) showed that we as customers already have at least 70% of our buying decision made, even before opening Google to start a search. This if we talk about B2B and B2C of products or services.
Just consider a fact: E-Commerce. If a client finds what he wants, he can buy it in a matter of minutes. When this is taken to the B2B world, it can take much longer. But, what if a robot answered to all of the future client's questions or could guide him in the process while he is inside that "new virtual office" that your website will turn into? Could the buying process take shorter? Totally! What if he needs to request a demo or a trial consultation? same answer.
The Dream of Becoming Google's n.1
We could appear as a Google's n.1 result and still not have commercial success. I will let engineers dedicated to SEO or to per-click advertising or naive beginners dream about it. That's just a metric of commercial vanity.
The conquest of this number isn't just about becoming n.1 rather, it's about the number of people who can reach our website. If we put it this way, becoming one of Google's results becomes the logical result by which the content developed by a company, becomes valuable to Google users (therefore, it's offered as a best result).
Conversions and Sales
Therefore, if I have more visitors (or sessions, as Google now calls it) for the content I publish, I should quickly "convert" all that traffic into potential customers.

Attracting people with an ad on a social platform or Google it's a good idea yet, what you want to get, in addition to your customer's visit, is his name and email. You want to know who you'll be talking to, what will you be talking to this person about, or on what will you give him more information, as well as to find the right time to do it. So every communication you have with your prospect will help him move forward in the buying process. That is, if he already showed interest in downloading some material that you offer, Inbound marketing suggests you continue the conversation with this person until a consultation or purchase is reached. All of this, without having to spend more money and time than the one that's needed in order to "nourish" him with information and have him coming back for more, as it's done with massive advertising.
These processes replace some marketing people and sales representatives. They focus on raising the ROI, in the medium and long term.
Something that draws our attention and we must consider, is that the new users who have decided to adopt Inbound Marketing as their new marketing, don't seem to be worried about focusing their efforts on basic metrics such as:
Visitors rates facing conversion rates
Conversion rates facing closing rates
So they can afterwards tune the process in order to "give people a push", specially those who are lingering in the nutrition process.
Inbound Marketing Investment
The investment required for marketing automation robots is as much as the cost of a platform such as HubSpot (between 300 and 800 dollars per month, depending on the size of the company), which is less than hiring full-time larger marketing and sales teams.
The benefits of such platforms are:
Their constant updating and adapting to the market
They work 24/7
Your client's education gets carried out immediately, actually, right within the commercialization funnel, wasting no time
For those who are not clients for now but seem like possible future clients, you have the chance to keep them in your database as well.
Improving Your Marketing and Sales teams
The opportunities this strategy offers are obvious. Your Sales Department will always have "potential customers" or so-called "warm leads", while your Marketing Department will become more accurate on their messages, ie, more qualified marketers, marketers with better performance. Both departments directed and focused only on reaching sales conversations more quickly.