Reasons to use HubSpot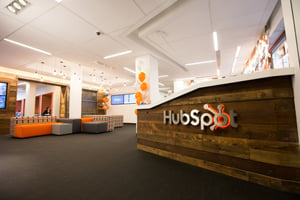 We always recommend our clients to carry their digital strategy out using a tool that helps them measure their overall success, a tool that makes it easier for them to manage and publish the contents, as well as help them give a follow-up to those prospects that the sales team are about to close a deal with.
HubSpot is a software suite that includes more than 32 functions which are needed to make content and digital marketing as well as to manage social networks, emails and a CRM. It solves all the needs that the marketer and a sales team have, using just one suite.
An all-in-one platform makes it easier to cross-check the information between social networks, web, loop marketing, mailing and sales. It saves us time on the publication, monitoring and analysis of the entire digital strategy. A strategy requires many disciplines to be able to tactically make a good implementation of content, so we recommend HubSpot as the main tool for it.
The main benefits of using HubSpot are:
1. Analyses and statistics
The main reason for using Hubspot is to be able to give all the contents of our digital strategy a statistical follow-up. By doing so, we can:
Improve what is actually working
Get rid of what is not working as planned
Be able to assess if it's profitable to invest on this medium.
HubSpot offers a series of tools to measure your web-site's traffic and its sources. It offers information about every person who has visited it and creates a history of what they've seen and how they've interacted with our content (whether its on the site, via emails or social networks). And it provides a personalized follow-up, until that person becomes a client. Once they've become customers, it also measures the way in which we delight them with our content.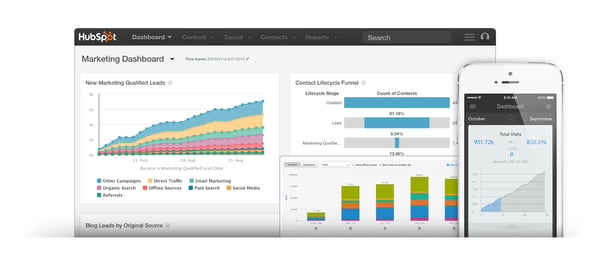 What can't be measured can't be improved. Knowing if one of our digital contents has been seen or shared; if that content helped attracting new visitors; and if one of those visitors become a prospect and afterwards, a client, we can justify investing in that specific medium and improve our communication on each of its stages.
A) We first need to measure each of the involvement stages of our visitors so we can improve. Let me tell you what may happen if we don't measure these stages:
a. Our content may be very engaging and attract a lot of people but not convert our visitors into prospects. Think of that TV commercial that was so good that you remember it well: very creative, funny story, well done and yet, for some reason, you can't remember the brand or company that made it or even worse, what they were selling. The whole idea of creating that commercial was to remind people of our product or service so whenever they needed it, they'd come to our store for it.
The same may happen with our content, it may be very good but, if it doesn't lead visitors to take action and don't convert visitors into prospects, it's not useful. And by convert I mean having your digital visitors (from your your website, mailing lists or social networks) share their contact information with you or interact with you, so that you can start having a conversation with them and give them more information on their specific interests. If we don't have this conversion, all the investment done in these contents becomes useless, just like it did with that TV commercial. Think of it.
Let's compare it with a blind date. You meet with one of your visitors, who is actually interested in what you do. You pay for the coffee and even buy this person a slice of cake. You spend a really nice time together. You even realize that you have many things in common. At the end of the date you say goodbye to this persona but don't ask for his/her phone number or contact information. What a waste! The same happens when you invest a lot in content but have no information about those who are actually seeing it. All that investment becomes just a waste of resources.
b. Our content may be good to convert but not to further create an interest on our prospect. If we can't make our clients get interested in what we do, give an answer to their questions, and educate them with our content, we won't be able to make them move forward towards closing a deal. Why? because we need to generate that sense of trust and familiarity that content can bring.
c. Our content might be good to convert but not to close the deal with our prospects.
What we really want is to increase sales. That's why we invest a lot on marketing, advertising and on our sales teams. If we can't measure the way our sales teams are responding to a client and give them the tools they need to do it well, we might as well attract the whole country but, if our customer service is poor, sales won't be closed.
Compare it to spending a lot on setting up a store: You rent a place at the the most important commercial avenue; you make a huge investment on a signboard or billboard to attract those who are passing by; you spend big money on a spectacular showcase to sell your product or service in the most attractive way. By doing all this, people might come into your store but, what if there is no one there to actually sell your product or service to them? all lost...
d. Our content might be good for all of the above and even help us to delight our current customers. Wouldn't you love to stay at a hotel where:
Everybody calls you by your name
You find a bath-robe with your initials on it
Find the bed was made with your favorite-color sheets (chocolate on top of the pillow)?
Well, you can do something similar for your customers with your digital strategy and measure how much are you delighting your current customers with your content.
If you don'tt measure each stage, you won't be able to improve it.
B) The next important thing to measure is the Return on Investment (ROI) from marketing, advertising and sales.
Imagine investing on a billboard that you place on the most important avenue of your city. How much does it help you generate customers? What can you measure from it? Wouldn't you like to know how many people are actually looking at it? And, out of those who are actually looking at it, how many were indeed interested? And, from those who were interested, how many did come into your store? and from those who came into your store, who ended up buying something?
If you had this information, you could measure if it's worth investing on that billboard or not. If you spent $1,000.00 on:
Renting the billboard space
Graphic design
Printing the ad
You can calculate your return by dividing the total cost between the sales income and, if your sales are higher than $ 1,000.00, then you can say you had a ROI. Otherwise, it will be necessary to evaluate whether it is convenient for us to invest on that medium or not.
Truth is, we unfortunately can't measure this with a billboard. If we ran a market study, the only real metric that we'd have would be the number of cars passing by on that avenue at the time of most traffic. The rest is speculation.
If you don't keep a statistic of every thing that you digitally do, you'll only see a part of the reality and thus, you'll make judgments and evaluations of your means based on unrealistic information. Therefore, your decisions and that idea of investing the money where it's best for your business, will be just an illusion, just like we do when we investing on a billboard.
2. Flexibility and web/digital content control
With a HubSpot platform, you have all the tools that you need so your marketing or sales teams can publish pages on your website without having know about graphic design or web design. It has an interface called Content Management System or CMS. With this system, they can publish new pages and add them in a simple way thanks to its pre-established web publishing templates.
The regular process without HubSpot goes like this:
The marketing or sales team have an idea to publish a new product or service.
They call an external provider in order to program this new idea on the website. This entails many other resources and activities: quotation or estimate, collection of information, web-programming, graphic design programming, presentation and acceptance meetings
At the end of it all, the final publication.
This process is very slow and takes away flexibility and time from everyone.
With HubSpot, this process is over. Plus, not only can your teams create and publish new content all by themselves, they can also create forms, automated e-mails, call-to-action buttons, and nurturing e-mails, among others.
All of the above gets done with the best practices of web design, such as
Responsive design, which means that all content is mobile friendly and adapts to their size.
An ultra-fast server that allows a better user experience.
A Secure Socket Layer (SSL) on your website, which makes both users and search engines trust you more.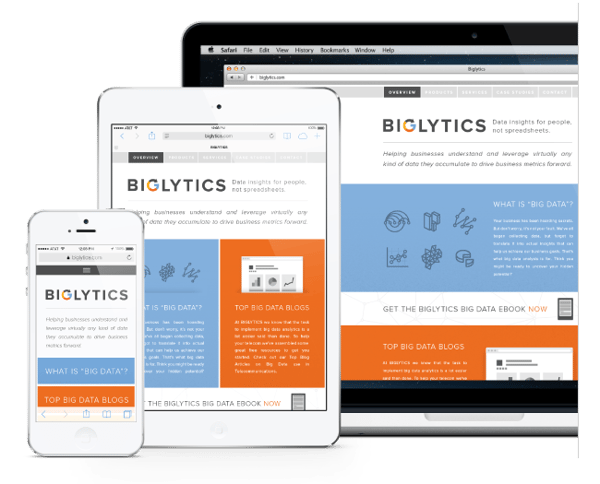 3. Best SEO practices
For those who don't know it, SEO stands for Search Engine Optimization. This bombastic words make reference to the procedure with which we can improve the way in which the information of our contents is placed on a website so that a search engine, such as Google, knows what information is on a page, on a certain section of it or on the whole website. This helps so Google index our page or place our webpage in the global index of information where people look for content.
HubSpot has several tools that help us to know the strengths of each of our web pages in terms of best SEO practices. We can improve them (optimize them) so that our information is easier to find by a search engine such as Google.
The beauty of this is that while we make the content, the tool reminds us not to forget the best practices for it, such as using a keyword, writing it in the url, in the title of the page, in the header of the page or H1 (Programming language). It takes care of all these details so that we can forget about the CEO per se and focus on creating content that attracts, converts, close and delight our potential customers.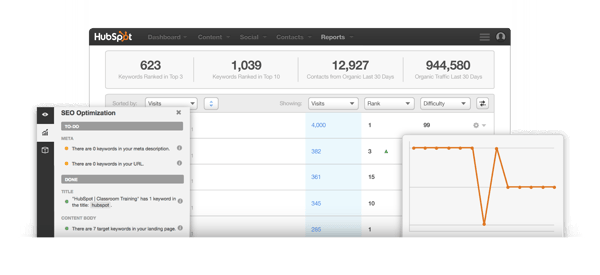 4. Analysis of the competition
HubSpot tool has a module that allows us to measure how our competitors are doing in terms of web success. It tells us what keywords are they using and the links they have made to other sites. In this way, we can see if our strategy has a differentiating point and how we compete with them. It can give us ideas on how to improve our strategy and have a benchmark for our digital marketing effort.
5. Blogging platform
There are many platforms to publish blogs yet, there are many advantages of using the HubSpot system that other systems don't have. The HubSpot tool was created in order to make a business blog. It allows us to publish and program our publications according to an editorial calendar. Plus, not only can you schedule the publication of your articles, but you also can really on its self-publication system so your publications get shared on social networks or/and with your list of subscribers. Whenever you write a blog, it will get published on the social networks that you choose and will send an email to your list of subscribers letting them know that new content has been published. In addition, the subscriber can choose the frequency with which he receives these notifications: immediately, weekly or monthly.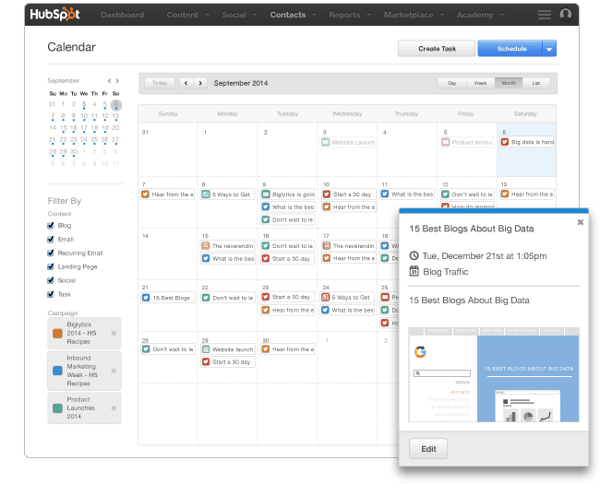 6. DataBase Segmentation (Loop Marketing).
This HubSpot Tool is the one that truly makes magic. Every user who interacts with you by means of your website, social networks or email, gets registered and a history of how he has interacted with us, is kept. Hence the idea of sending the right message, to the right person, at the right time, so you are not to mistaken for SPAM. You can see your client's tastes and preferences, as well as the information that they are looking for, so you can create nutrition campaigns and only send to them information that they are truly interested in. That's when you are doing loop marketing, when we keep our contents within context and relevant for the right person. This helps us get involved with our prospects and give context to our sales teams. It also tells us when a new prospect has entered our site so we can interact with this person at the right time.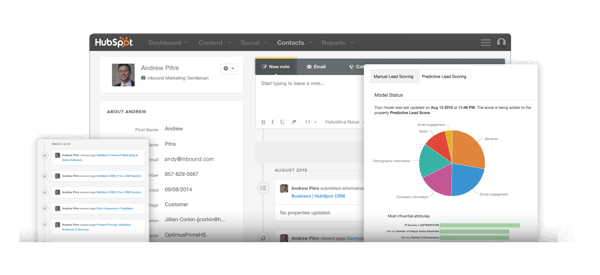 7. Publications and social-network monitoring.
Publishing a single message on social networks is time consuming for a community manager. Imagine making the same message for all social networks plus adapting it to each one of them! How long would it take to post the same post for Facebook, Twitter, LinkedIn, Instagram, Google + and Pinterest? With HubSpot, you can make a single message which will be automatically published in the networks that you choose, making it very easy to adapt it to each of the social networks that you have. It not only makes this job easier but it also keeps a statistic of the schedules in which it would be better to publish and based on these statistics, makes the best recommendations for the publishing of your posts.
Monitoring all social networks and seeing which conversations are held on each of your networks so you can respond in a timely manner to each question or interaction that you have, is a very difficult task to achieve if it's not done with a tool as powerful as HubSpot. With this software, you can monitor in an Inbox everything that happens in all of your social networks. On Twitter, it allows us to give a follow-up on terms of interest, the so-called Hashtags (#), that show trending topics. When these topics are mentioned, you'll receive a notification, whether it's a name, brand or trend that you want to follow.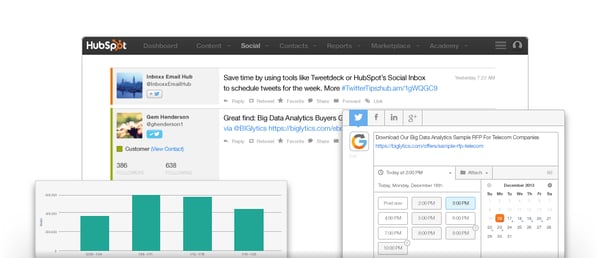 8. CRM (Customer Relationship Management)
The CRM or Customer Relationship Management, is a software that allows you to give a timely follow-up to your sales teams about your prospects and clients. This is a very helpful tool that will make your salespeople know what the customer's interests are based on their interaction history. It helps them to easily see their whole sales process and know what stage each sale is in (Deal or business).
It also generates statistics for managers about the frequency and manner in which sales representatives are tending your prospects and measure the entire process. Once again, if it can't be measured it can't be improved. It also sends them automated reminders about the tasks that the representatives have to do. So they will never forget to make a call, send a presentation or a quote. This tool helps you to improve the interaction that your salespeople hold with your clients or prospects.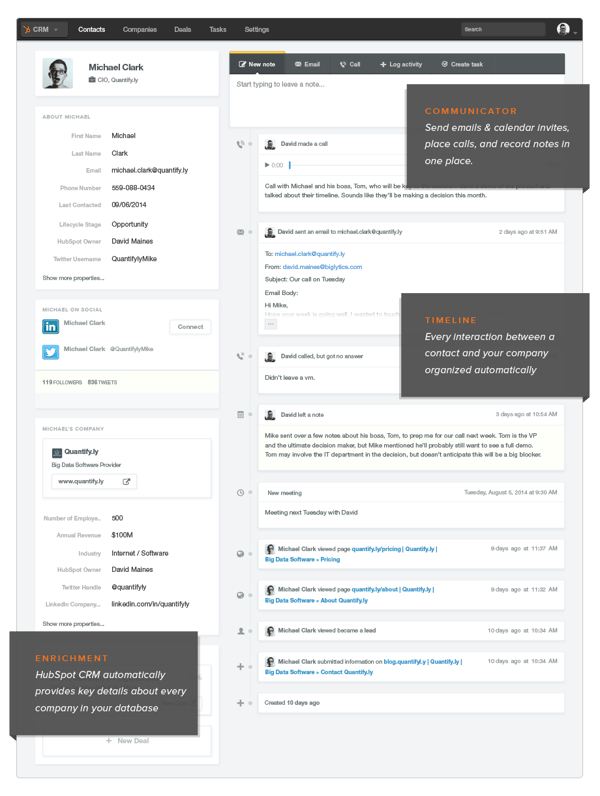 HubSpot has many other modules to make more specific functions. In this article, I only mentioned the main tasks of the tool, keeping in mind the most indispensable management, marketing and sales needs.
Another benefit is that HubSpot is both in English and Spanish, as well as in other languages. If you have doubts about whether HubSpot is the right tool for your Marketing and Sales teams to put into practice your whole digital strategy, contact us, we'd be glad to help.