For many years now, several businesses have known how to catch the internet wave and started doing online marketing and sales. For these businesses, sales have continued their course despite their clients staying at home. If you haven't done the same yet, there's no better time than this to give your business a boost based on an internet strategy.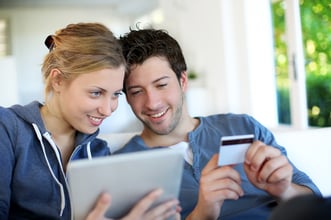 Selling Online
Where do I start?
Design a strategy
First of all, you have to carefully plan your strategy. It's not just about building a website, it's about designing a full strategy first, according to the sales goals of your company. This strategy will later be translated into an intelligent website, which will help you both for marketing and sales. It's what in DataBranding we know as GamePlan
Build a Website
Once you've designed your strategy, you'll then build a website. There are different kinds of websites. You want to build a site that allows you to attract potential customers with relevant content and start a business relationship with them, based on the trust you'll build thanks to this useful content.
This content has to be published constantly; your site shouldn't be a static brochure with information that doesn't change, on the contrary, it must constantly be updated with information that will useful to each kind of client that you know you'll have, according to his/her buying stage.
How can your site be found on the internet by potential clients?
The content that you'll be publishing must follow certain guidelines so that internet search engines (such as Google) find it and rank it among their best answers. Hence the importance of being consistent and keeping your site updated with your publications. This strategy is what we know as Inbound Marketing or Attraction Marketing, because those potential customers who are already actively searching the web for what you offer, will be able to come across your page and become costumers.
How are these internet visitors turned into customers?
You've already achieved your goal, to have these potential customers come to your site. Once they're there, you will be answering (with the content of your site) to all the questions they may have, so that they learn all about your product or service.
This journey that they'll follow on your site:
Will be registered in a CRM, so you can track each of their interactions on your site and serve them better.
Will end with a sale offer, whether they buy something online, or have one of your sales representatives contact them.
We Can Help!

DataBranding is a digital marketing agency with many years of experience helping its clients' sales grow exponentially. We have a plan designed to meet each of our client's needs. Contact us!