What is Digital Marketing? How can a Digital Marketing Agency help you with your strategy? Is it worth hiring and agency or is it better if you do it yourself? We hope this article answers these and other questions that you may have on the matter.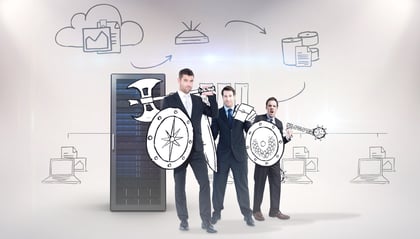 Digital Marketing
It's when we start marketing a product or service on digital media, making use of electronic devices, such as computers, cell phones, tablets, which have an Internet access. We can use several tools:
Website. You can offer basic information (some sort of e-brochure) or use it as a platform to constantly communicate with your customers and automate many follow-up processes with each of them, in order to close sales.
Social Media. It's a strategy based on posting information on social media (facebook, instagram, twitter) so that your followers keep you in mind, share your posts and talk about you, with you, and with each other (about you).
Email campaigns. Against common thought, it's still a very effective mean used for marketing purposes.
Influencers. They go hand in hand with social networks. You pay a person who has influence in the market that you are interested in (model, actor, sports professional, opinion leader ...) so this person recommends your brand.
Paid Ads. You pay for them so that search engines, such as Google, show your webpage to the people who ask questions on their page, as a first result (Google ads).
Which is the best option?
Once again, it all depends on what you want to do and the reach that you want to have. All of the previous tools help you get in touch with your clients.
Sitio web- It all depends on the benefit you want to get. If you just want it to be a page where customers can find basic contact information, you won't achieve achieve much from it as a marketing/sales strategy. On the other hand, if it's built to help you stay active, in constant communication with your customers, and take advantage of the benefits that good SEO strategy can offer, it can become the platform that will take your business to the next level.
Social media- They're great for those who already are your followers, so they get all of your new posts, share them, and make comments about them. They give you brand awareness. However: Search engines don't even look at them when it comes to considering them as an answer; You won't create a database of new clients (the data is owned by the social network, not you); Your publications disappear with time. A website, on the other hand: Gets ranked by search engines and offered as a result to their visitors; Saves all the information that you've posted and keeps it at hand for your customers; Helps you grow your own clients database.
Email Campaigns- They're a success when carried out properly, that is, if they are part of a whole strategy in which customers have been previously segmented by their profiles. By doing do, they'll only receive information that: Is useful to them; Matches their specific profiles; Meet their personal needs. This is how they won't be considered spam.
Influencers- They help you build brand awareness, but if you don't handle it as a part of a whole digital strategy, one that will give a follow-up to all the interactions that this influencer raises, all of your efforts will only stay there, on the network, and won't translate into business for your company. In other words, you will not be able to make the most out of the success that this strategy can bring if you don't first build:

A strong website, one that will consider SEO strategies and build processes to grow your own contacts database
A CRM that will manage your contacts and help you automate the communication steps that you'll keep with them, from the first moment they visit your website, to the moment they buy something from you

Paid Ads - Keep in mind that with this option, although your product will indeed appear as a first result on the search engine's results page, the cost of these ads increases over time because they are based on auctions. In addition, it is proven that few people click on these ads. On the other hand, a good Inbound Marketing strategy offers you the same result, only with a greater investment of time and effort, yet in the long run, it also offers much more benefits, since that effort and time invested remains on your site and your presence in the network will increasingly grow without you having to pay for it.
Inbound Marketing
Us, as an Inbound Marketing agency, recommend that you work with a whole marketing and sales strategy, one that makes use of all these tools by putting them to work together in a smart way, focused on one same goal. If each of these tools have their own benefits, imagine how much more you can accomplish when you put them to work together, within a same goal and strategy!
Inbound Marketing, or Attraction Marketing, is the strategy based on the interest that users already have for a product or service, to offer/sell them your company's products. By doing so, you won't "waste bullets" by shooting aimlessly, as was done with traditional marketing campaigns.
In other words, when a person is already searching online for something they need, they'll find your company's website which, what a coincidence! (not!) happens to have what they are looking for. And not only they'll find your website, this first visit will keep a record of your client's information and will add him to your CRM (your own clients database). By doing so, you will be able to automate an informational "relationship" with him, one that will lead him to trust you, your products, and close the deal.
If you want to learn more about this strategy, download our free e-book by clicking on the following button:
Do you need to Hire an Agency?
It depends on the services that you need:
If you only want to create a website that will remain static, lifeless, probably not. For this purposes, you should only hire a single "site creation" service and that's it.
The same with Social Networks and influencers. An agency will handle them professionally but, if you have professional knowledge on network marketing, maybe you can do it yourself. It's just a matter of constantly publishing interesting content, so people don't stop seeing your posts on the network of your choice.
If you already have a client portfolio, an email marketing campaign shouldn't require much support from an agency. Specially if this campaign isn't part of a broader marketing strategy, you don't want to automate processes until the sales close, or grow your database. On the other hand, if you want the effort invested in your emailing campaign to pay off, then we do recommend hiring an agency, one that works with the CRM that you need to effectively manage your client portfolio and the communication that your clients keep with your company.
You don't need an agency to hire a service like Google Ads. You hire that service directly with this company and that's it. Of course, you must have a website to which your customers are redirected to, once they click on the ad.
You definitely need to hire an agency if:
You you want to design a whole digital marketing and sales strategy that articulates several digital tools to meet your sales goals
You need training for your marketing and sales teams so they learn how to make the most out of digital tools
If you need support with audio and video creation for your website
If you need to build a website that will:

Constantly be updated
Be linked to a software that will let you manage your visitors and contacts
Follow the best SEO practices so that search engines find your website and rank it as a n.1 answer (without having to pay to the search engine for it)
A good-quality Inbound Marketing agency must be able to offer all these services to you, in addition to a constant analysis of the strategy and campaigns that are being carried out, so you know if you are on the right track, and continue the same way or, if necessary, change the course of action.
Many entrepreneurs bet on doing all this themselves and some even do it, we won't say it's impossible yet, the learning curve also has other costs:
Material (Both financial and in human resources)
Emotional (learning can be frustrating without proper guidance!)
Time you lose while learning while you could already be making a profit
In our experience, it's always best to ask an expert for help, unless while you and your team learn how to get this process going and automate all of the strategy.

You should be able to ask an agency for:
A single start-up consultancy
The design of a strategy (made by both your teams and the agency) and the training of your teams so they know how to carry it out
Design the strategy with you and work together during the whole project