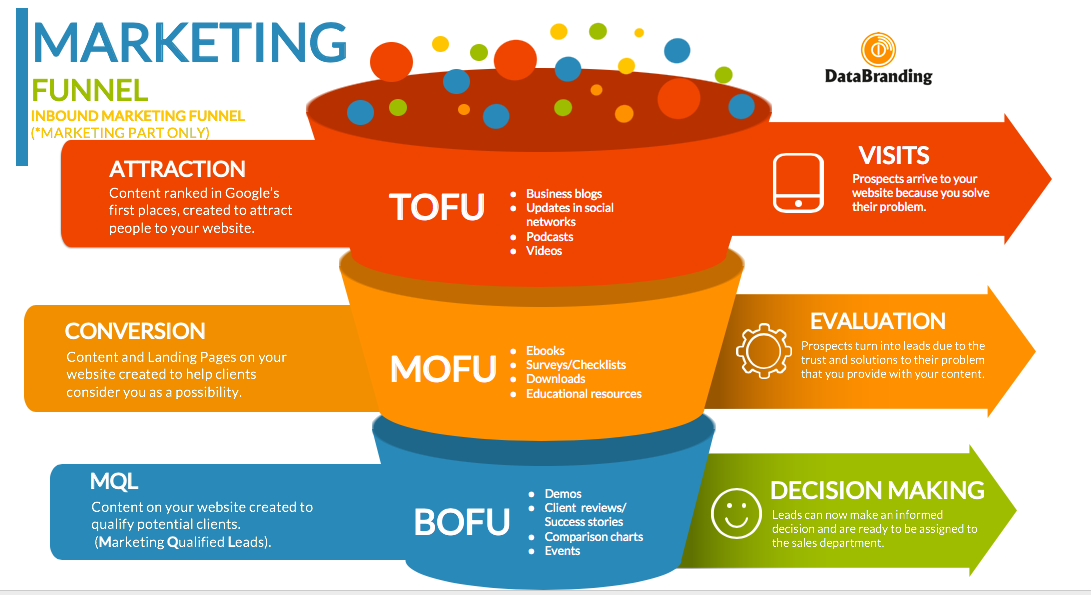 A Marketing Funnel is a strategic and indispensable tool for any institution or company that wants to reward its efforts with an increase of its sales since, it's based on the General Strategy or Game Plan of the company, which must be measurable and scalable.
A complete Marketing Funnel is of course connected to a Sales Funnel as well, but we will here only address the first one, in its digital version, and focus on how to plan it.
Before we dive into it, we must assume the following:
You are convinced that having a marketing funnel will help your company increase its number of leads and sales
You know who your buyer personas are
You understand how will content help you add people to the funnel
You have at least a basic understanding of organic SEO, about how it works for search engines such as Google
You understand the digital conversion road: Call-To-Action (CTA) buttons, Landing Pages and Thanks You pages
You've at least heard of keywords and how they've transformed with time

Planning a Marketing Funnel
From the company's part, there are 3 planning stages that must be covered: Attract, convert and close.
Attract visitors to your website, which must already be set to follow the conversion path that we want them to follow.
Convert this visitors into prospects, with name and last name.
Finally, the third stage, which we understand as the moment when leads leave our marketing field and are directed to the commercial area.
About the Premium Content that we will Offer
Content is king. You must have enough content to give an answer all of the questions and doubts that your visitors may have; From content that provides basic information to people who know nothing or little about what you offer, content that would help them know if you can solve their need, to in-depth material that would help them decide if your brand or company is the right solution for them.
This is why every offer must be linked to one or several Landing Pages by means of a CTA button. Thus, a basic content strategy must at least include 4 blog posts and a Landing Page per funnel stage.
The purpose with which this content must be developed should always be based on thinking: How will this help my buyer persona?
The way in which we deliver this content may be an article which can also become a downloadable video, podcast or Ebook. This will offer a wide range of amplification, since we all don't look for content in a single and exclusive way.

Attraction
At this stage, the content that we create is designed and developed for a specific buyer persona -we will usually create at least 3 of them- and launched, first on the website, and then on other platforms such as YouTube, for example.
The central axis will be the stage in which this Buyer Persona is, what's he looking for and how does he intend to solve his problem or need. Thus, he could be in any of the following stages:
Awareness
Consideration
Decision
Which are the first 3 levels that we also share with Sales. This is why we need to have material designed for each stage:
General, about what the problems that our company solves
More in-depth, about the way we solve them
About the different options that the clients have, our brand among them
Conversion
Some of the people with whom I've discussed this matter summarize it as forms. Yes, fill-in forms are necessary to start a conversation with a potential client, one with a first and last name.
These forms can and should become increasingly complex as the conversion path progresses. In some cases, we begin asking basic questions and afterwards, in the forms that follow, we may ask for more specific information, the kind that is required to refine our qualification of the prospect, such as: "Annual ranges of investment in services". The quality of the content that we offer for them to download -in exchange for their information, is key. This content must be relevant and offered within context.
Closing / Marketing Qualified Lead (MQL)
Considering that the design of this funnel was made by us and therefore, it follows our own qualification process, a potential customer who has reached this stage will, without a doubt, have the intention to buy.
Does this mean that if you have this person as an MQL he is going to buy from you? No, it just shows he has a buying intention due to: the number of visits he's had on your website, the number of mails that he's opened, and the content material that he's downloaded. This is what makes him earn that MQL qualification from the marketing area.
At this stage, the buyer persona looks for more in-depth information, such as:
Improvement ranges
Closing percentages with a certain service or product
Success stories or what other people -such as himself- have said about your company and/or product.
All of which will help -and give more context- to your sales team so they can close this person as a customer/deal.
Learn how to drive more leads to your sales funnel for B2B: