This article was originally published in Spanish on the HubSpot blog. If you are not subscribed to the HubSpot blog and you want to subscribe to it, you can do it by clicking here.
In a previous publication, I talked about why should you have a Podcast and about how it has the power to:
Create a captive audience, one that wants more content each time
Directly influence the reason and the subconscious of the audience better than any another medium.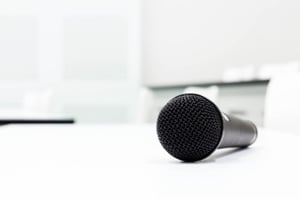 So, what are you waiting for to make a podcast for your company or your customers? If you have not read the previous post, we suggest you do it by clicking
here
.
For those who have already made the decision to venture into the world of Podcast, we will now talk to you about how to implement this format. In order to make a podcast, there are two things that must be solved:
What to talk about and how?
Technical details
What should you talk about in your Podcast
Trying to figure out what to talk about is the same problem that we face when creating any kind of content. But it is actually very easy to do. You just have to understand your buyer personas (potential client) and talk about their concerns and needs, in their language.
Talk about your buyer persona's concerns
You can talk about the concerns of your potential clients:
what they want to achieve
what keeps them awake at night
the way in which your product or service might help them solve these concerns
What we have to do is to be extensive in telling our clients how do we do what we do, taking it as an opportunity to tell them more stories about what we can achieve, in an oral or written way, printing an emotion in this content.
Speak your potential client's language
Speaking their language means choosing a vocabulary that they'll understand/better relate to. In other words, speak clearly, avoiding pretentious and showy words, speak in a language that a regular person can understand.
Once you've done this, you will have to make an editorial calendar, that is, to schedule the dates and the topics. Remember that frequency is important in order to create that familiarity and habit that you want to create in your audience.
We recommend you read this HubSpot's article on content creation: 5 Steps to make content creation less painful
The Podcast's technical details
This second issue is the hardest one, since not everyone has a communicator, audio engineer or broadcaster training. I will therefore try to share with you some tips that I have learned during my experience working in these three areas.
The first thing that you should choose is your distribution channel. On what platform are you going to host the audios and what will you do in order to distribute them on social networks, laptops, desktops, mobile phones and audio players? In addition, this platform should also offer an option for you audience to subscribe so that they can periodically receive your contents by means of a RSS feed.
There are several platforms to do this. What has worked best for us at DataBranding, is the Soundcloud platform, since it is very easy to use, it already has an audio-listening community and has an RSS platform that connects directly with iTunes. You have to be present in the latter, since it's the Podcast's pioneer and the one that has the largest numbers of users.
As with everything in life, good things cost money. Soundcloud has a free trial program that limits the number of hours that can be uploaded to your platform but, after the sixth hour, the annual service has a cost. If you are going to do podcasting, you will have to choose to pay for the service.
iTunes is free, but it only replicates what an RSS feed contains. This means that it only reproduces what it's being hosted on another platform -such as Soundcloud-, but you really can't upload and host audios on the iTunes platform for podcasts.
To register a profile in iTunes, you just need to have the RSS address of the service that you've hired and then access the application, fill in your profile with all your data, generate a high resolution image and, ta-dah! your Podcasts will be automatically published.
It is also very easy to register on Soundcloud. As it's done everywhere else, we are asked to provide our name, email, and payment method. Then you fill-in your profile with the following information:
kind of programming
name
website
cover image
profile image
other profile data
And voilá! You can now start uploading audios in many kinds of formats.
It is just as easy as uploading a file and filling in the show's name what the chapter is about. You then choose the topics -like you do on Twitter with hashtags-, choose a cover image to put on it, save it all and, that's it! It will be automatically published in the platform, shared in the social networks that have been registered in your profile and, it will also be published on iTunes and on all the platforms that are subscribed to the RSS.
This is a process that could seem intimidating and complicated but it's actually very easy. It only takes some time to fill in the data and become familiar with the interfaces of the applications.
Here we recommend some podcasts about Inbound Marketing so you can become a little more familiar with the formats:
If you are a designer, we recommend the following blog: 7 Design Podcasts That'll Get The Creative Juices Flowing
Tell us about your experience using Podcasts and if you have any recommendations for us on implementing this content format.