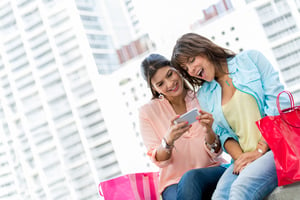 Ever since the Internet arrived, many companies adapted -and are still adapting- their marketing and sales strategies to this new media. Some combine traditional media with digital marketing, while others have focused only on the latter.
Inbound Marketing and Buyer Personas
Inbound Marketing
It's a Digital Marketing strategy which links several tools that the internet offers under a single strategy with the intention of attracting visitors to the company's website to start building an information-exchange relationship (one that aims to close sales) with them. This why we also know it as Attraction Marketing.
An inbound Marketing strategy must be based on creating relevant content for your company's website visitors. This content must also be optimized for internet search engines (such as Google) to find it and offer it to its users. By doing so, we make the company's website visible among the many options there are on the web.
Having searched on the internet for what you have to offer, these visitors will want to read the content of your site (after all, it was the answer that the search engine suggested to them) and, if the content that you offer is of good quality and relevant, they'll even be willing to share their contact information with you so that they can continue receiving more information about your product or service. This is how you'll start to directly communicate with them and give an answer to any of the questions they may have -until the sale closes.
Buyer Personas
What do Buyer Personas have to do with all this?
Your site will be receiving all kinds of visitors and, if what you want is to adapt your content to each visitor's profile, you must build a model about each kind of client you may have. Based on this buyer's profile (built with information as well as with a little imagination) you can create the specific content that each of your potential clients may need and thus, have the answer that each one is looking for online. This model of each buyer's profile is what we call Buyer Persona.
For example, if your company sells car insurances, you'll have different kinds of potential customers, for instance:
A parent
Car dealerships
Transportation companies
(Among others)
The content that each buyer persona will look for on your site will be very different. The questions that each of these kinds of clients may have, will be very different. That's why, when building your content strategy, you must keep your buyer personas in mind as well as the kind of questions that each of them may have when searching on the web for answers.
The parent may ask about basic plans, individual coverages, maybe family plans.
The car dealership will need to learn about different kinds of plans, since the cars won't be moved around much (they're there as a display) but they'll still need to have some coverage in case of unexpected damages (such as robbery or, if cars are exposed to weather, maybe hail storm, for example). Maybe they'll want to know about the different insurance plans they can offer to their clients and co-work with the insurance company as well.
The transportation company will ask about a very different kind of insurance, especially if it's a company with a large fleet and heavy-duty cars. There will be those who transport personnel and will require other kinds of insurance.
Each of these buyer personas will look for information on your site and you must anticipate the questions they may have, so that you can give an answer to all of them with your site's content. This content will be strategically designed to meet the needs of each buyer persona. This is how they'll want to stay on your site and keep informing themselves. You'll give them all the information they need until they feel ready to buy your product or hire your service.
So now you know it, if your strategy means to attract visitors to your website, you must build a whole content strategy to achieve it. One of the many things that must be taken into account is to keep your buyer personas in mind. By doing so, you'll meet their informational needs and they'll start trusting your good quality -and relevant- content.